RETOUR AUX ARCHIVES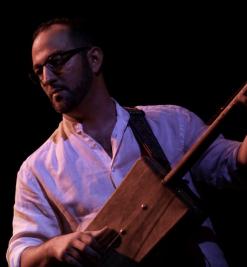 Friday 8 March - 21h00
ZAFÎF
concert
Journey from Arabia to the enchanted Africa
Gnawa ceremonies - the fruit of encounters between sub-Saharan Africa and the Maghreb - lead to trances with their haunting rhythms and enchanting dances. This programme offers a chance to discover both its traditional and contemporary paths.
First up: the Jill Gnawa ensemble introduces gnawa heritage. In the second half, Zafif offers a contemporary take. This project fulfills the deep need for dialogue and exchange between the musicians.
1ère partie : Jill Gnawa
Mohamed Cherif Khabba : guembri, voix principale
Mustapha Soukab : karkabou, choeur
Khalil Bensid : karkabou, choeur
2e partie : Zafîf
Samir Mokrani : oud, saz
Khalil Bensid : guembri, basse électrique
Youcef Debbab : percussions
Practical informations
Price of the ticket : 20.-
ADEM et AMR adherent, students, apprentices, unemployed people, AVS : 15.-
20 ans/20 francs card : 12.-
Infos : 022 716 56 30
Online box-office and preleasing : AMR, 10 rue des Alpes www.amr-geneve.ch
Concert organised by the Ateliers d'ethnomusicologie and the AMR, with support of the City of Geneva and of the Fonds culturel Sud.