The Balkans
Music from the gateway to the East
The Balkans has always served as a crossroads between East and West and the region's history is well known. It has been a theatre for numerous conflicts, conquests and migration; but it is also a land of exchanges, a cultural melting pot made up of diverse populations; Greeks, Turks, Slaves, Albanians and Tsiganes; Christians, Jews and Muslims. Willingly or by force, these peoples have learned to live together, all the while preserving their fragile symbols of identity.
By presenting musicians from six countries – and from an imagined land – this festival will highlight the parallels between strong styles, which come from a common source of inspiration. Over and above the particularities (Albanian polyphonies, Bulgaria's asymmetrical rhythms, Macedonian brass bands) the music has a family feel to it that touches and seduces us. Let us then be charmed by Orpheus' lyre or, like wandering Ulysses, by the sirens' song, risking our souls, charmed by the magic of sound.
Ouverture
Vagalatschk
Bloody Balkan Fiction
Maria "La Patsch" de la Paz: song
Marc "Brutsch" Berman: accordion, song
Alexandra "Pietrouchka" Tundo: clarinets, song
Ben "Vadim" Vicq: guitar
Léon "Walabatsch" Kadi: Violin, trombone, flute
Mathias "Pariku" Noverraz: drums
Rachel Delégise: dance

Free entrance

Audio extract :
In 2005, seven characters from a Vlagachian thriller united before of pile of instruments that included a helicopter-accordion, a trombone forged in iron and a poppy-petalled double bass. Since that time, Vagalatschk has created a fun and festive universe, which takes us into the mad, musical world of Vlagachie, a fantastical incarnation of the Balkans. For the festival's opening, the Ateliers d'ethnomusicologie have chosen to offer this concert to their public.
Thursday 23 September, 9pm

Concert
Pérgamos Project- Café Aman
Rebetiko, music and dance from Greece and Asia Minor
Kyriakos Gouventas: violin
Yannis Alexandris: song, oud, guitar, baglamà
Haris Lambrakis: nay
Takis Kunelis: bouzouki, percussion
Yvonne Gorrara: dance
Elisa Turri: dance
Audio extracts:
| | |
| --- | --- |
| Pergamos (2'34) | |
| Oropos (4.27) | |
Pérgamos Projects invites us on a musical journey through early twentieth century Greece, with some of the most beautiful Rebetiko songs. Entitled Café Aman, this programme follows, through music, the movements of Asia Minor's Greeks, who would go to meet in the port areas of Salonica and the Piraeus. The Rebetiko is the music of cabarets, smoking dens and prisons and is a refuge for those excluded by a pitiless society.
The music of well-known composers will be honoured through song, dance and instrumental improvisation.

Concert
Naat Veliov and the Original Kocani Orkestar
Tsigane (gypsy) brass band from Macedonia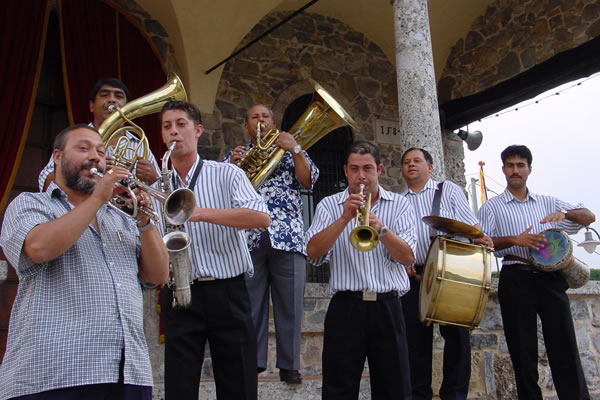 Naat Veliov: trumpet
Dalkran Asmetov: tuba
Elsan Ismailov: saxophone
Hikmet Veliov: tuba
Orhan Veliov: trumpet
Redzaim Jseinov: percussion
Ali Memedovski: tarabouka
Extraits audio :
| | |
| --- | --- |
| 1. Nikol (3'29) | |
| 2. Agonija (5'25) | |

Founded in Macedonia by the incredible trumpeter « King » Nat Veliov, the Kocani Orkestar became known in Emir Kusturica's film «Time of the Gypsies». The music, brilliantly performed by a scorching brass section to wild rhythms, takes us to the festive atmosphere of the towns and villages of the Balkans. Their eclectic repertoire bares the marks of various sources of inspiration and is passed down the generations, in keeping with tradition.
Saturday 25 September 5 pm

Cinema
« Rembetiko »
Costas Ferris (Greece, 1983, 35mm, 148') Greek with French subtitles
Golden Bear at Berlin Film Festival 1984.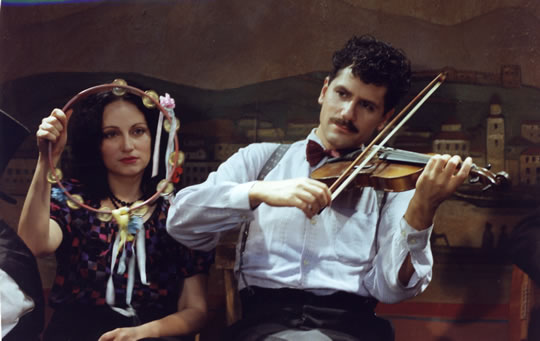 With Thesia Panagiotou, Sortiria Leonardou, Hrysoula Hristopoulou, Sofia Emfietzi, Thodoris Papadopoulos, Petros Flippidis, Manolis Karantinis
Movie extract :
Smyrne, 1919: Adrianna, wife of the Rebetiko singer Panayis, gives birth to Marika. Years later, after her mother's violent death and the birth of her own child, Marika and a musician friend find themselves in the taverna where Babis and his orchestra played.
Costas Ferris was born in Egypt to Greek parents, but it was really in Greece that he threw himself into cinema. Rembetiko is his fifth feature length film.

Saturday 25 September 8.30pm

Concert
Istanbul Sazendelari – The Night of the Ney
Istanbul's great soloists
1st half : Istanbul Sazendelari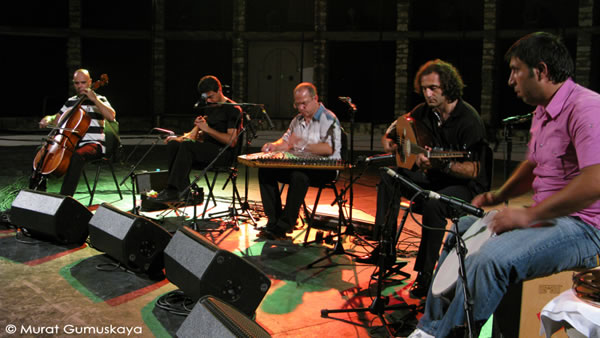 Göksel Baktagir: cithara kanun
Yurdal Tokçcan: lute oud
Selim Güler: fiddle kermençe
Emrullah Sengüller: cello
Bülent Elmas: percussion
The first part of this exceptional evening dedicated to Istanbul's music scene reveals the richness of Turkish classical music. Founded in 1999, Istanbul Sazendelari brings together 5 of Istanbul's best musicians. With a contemporary feel, the group offers up incredible improvisations and creative music based on a demanding classical tradition.
The Night of the Ney


Istanbul's great soloists – 2nd half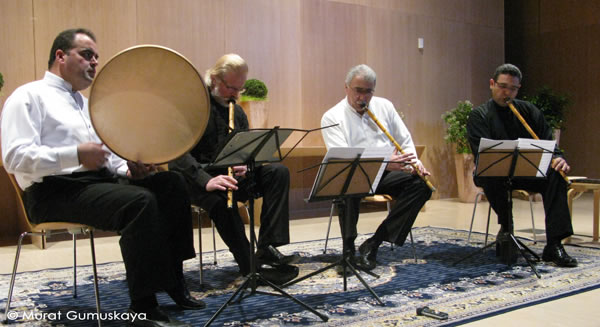 Muhammed Sadreddin özçimi: flute ney
Ahmed Sahin: song, ney
Murat Salim Tokaç: ney, lute, tanbur
Ahmet Çalisir: song, drum bendir

In contrast to Istanbul Sazendelari's creativity and instrumental mastery, the Night of the Ney programme focuses on the depth and spiritual dimensions of playing.
The ney, a frail reed flute, is not only a key instrument in Turkish classical music, but it is also the archetypal symbol of Sufi heritage. With instrumentals and vocals, this meditative music is also completely in keeping with the Sufi spirit.
Concert
Music of Crete
Masters of traditional music




Zacharis Spyridakis: song, fiddle lyra
Girgos Xylouris: song, lute laouto
Vassilis Stavrakakis: song
Gianis Papatzannis: song, percussion
Giannis Rombogiannakis: bagpipes askomantoura, flute sfyrochabiolo


Audio extracts:

| | |
| --- | --- |
| Extrait 1 (5'01) | |
| Extrait 2 (6.44) | |

Reaching back to Antiquity, Crete's rich musical tradition bares witness to the eventful history of an island where diverse influences confronted one another. This crossroads of civilisations brings us a music where East and West seem to have found an exceptionally fertile common ground - it's a unique fusion of Dionysian spirit, ecstatic dances and ancient ballads.
The concert brings together 5 of Crete's most well known singers and musicians in a programme that is representative of the island's different styles, which include songs, pastoral melodies and dance tunes.
Cinema
« Whose is this song ? »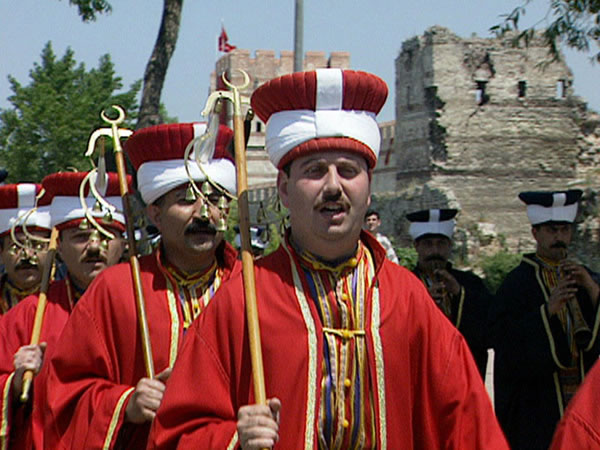 (Chia e Tazi Pesen?)
Adela Peeva (Bulgaria, 2003, Beta, 70') Original version with French subtitles
Bartok Prize, Ethnographic film festival, Paris, 2004
Imagine Adela Peeva's surprise when she discovered that a song from her childhood – one that she believed to be Bulgarian – was also sung from Greece through to Turkey. Wanting to know more, and motivated by the naïve hope that this song could serve as a bridge between peoples who have always fought each other, she travelled all over the Balkans, seeking out musicians, singers and experts in an effort to discover its origins.
Concert
Dimitar Gugov Ensemble
The Bulgarian art of gadulka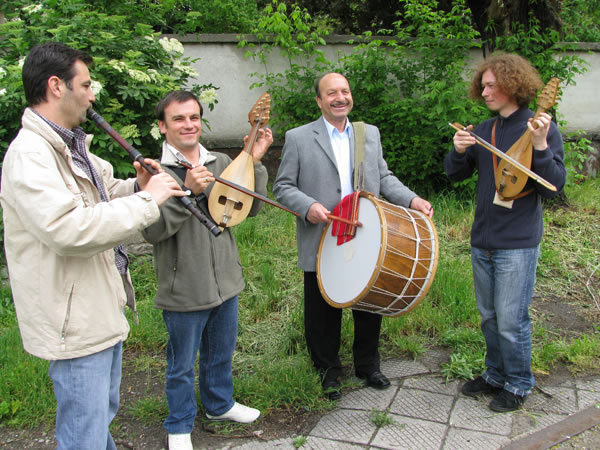 Dimitar Gugov: song, fiddle gadulka
Nikolai Paskalev: fiddle gadulka
Temelko Nikolov Ivanov: flute kaval
Yavor Taskov: lute, tambura
Georgi Nedkov: accordion
Hasan Mustafov: drum tapan
Audio extracts :
| | |
| --- | --- |
| Krivo Sadovsko Horo (3'06) | |
| Nazad Nazad Nome Kalino (4.27) | |

In Bulgaria, the gadulka (a small string instrument with bow) is used in music that is both popular and refined. Accordingly, the repertoire comprises of dances, asymmetrical rhythms, songs and instrumental improvisation. Alone or accompanied, the gadulka is an instrument that articulates all the emotions in Dimitar Gugov's inspired and fundamentally festive expression of traditional music.

Saturday 2 October 5 pm
Cinema


The Song of a Lost Country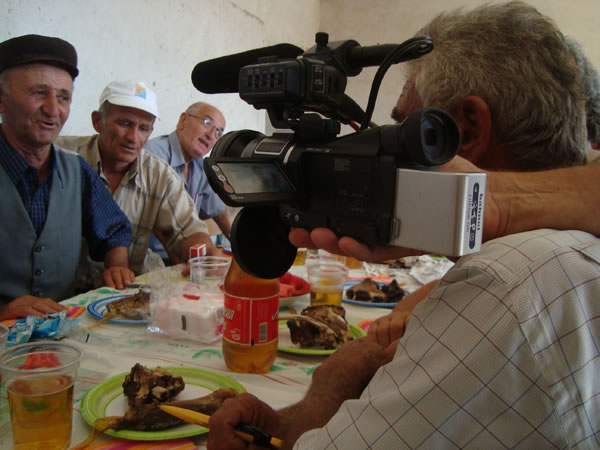 Bernard Lortat-Jacob and Hélène Delaporte (France, 2006, Beta, 68') Albanian and Greek with French subtitles
Bartok Prize, Ethnographic film festival Paris 2007


Found in the north of modern-day Greece, Chameria (Camëria) is the lost country that Albanian Muslims were forced to leave after the war. So one sings and cries simultaneously with nostalgia for this land. Shaban Zeneli is a singer living in Albania who returns to his father's village, where he sings when overcome with emotion..
Albanian populations, comprised mostly of Muslims, who settled in Epire were expelled from Greece at the end of the war. Albanians from the villages of Epire in Greece lost their land and still maintain a strong and painful longing for their country of origin. This is expressed mostly through music and in particular through song – crying songs that capture and cultivate a sensation of sadness and great beauty.
Saturday 2 October 6.30pm

Conference
Singing together/being together (South Albania)

Bernard Lortat-Jacob
Free entrance
What happens in these "group songs" where everyone is asked to participate? How do the voices combine? What are the expressive intentions of singers and those accompanying them? These are some of the questions Bernard Lortat-Jacob, Mediterranean music specialist, will answer.
It is difficult to know what represents polyphonic songs today in South Albania: is it a reactionary and more or less dying art recalling a totalitarian regime? Or is it the direct heir of very tough communist regime that nearly all would like to forget? Then how does one explain that in the villages – despite their being deserted – and even more so in the towns, so many singers take pleasure in making music together, for hours, around a table, with the help of raki of course.
Concert
Mallakastër Ensemble
Albanian vocal polyphonies and instrumental music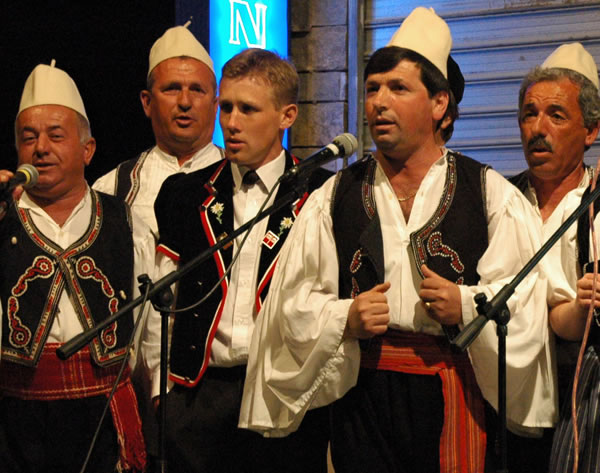 Guri Rrokaj, Fatmir Tahiraj, Muhamet Zotaj, Ali Shametaj, Vladimir Shehaj: song
Refat Sulejmani, Shaban Zeneli : song (tradition çam)
Bashkim Llapushi : song, clarinet, flute, oboe gaida
Ardian Muka : song, lute
Vladimir Shehaj : accordion
Ali Shametaj : percussion
Viktor Sharra : direction
Extraits audio :
| | |
| --- | --- |
| Polyphonies vocales (3'47) | |
| Polyphonies instrumentales (3.25) | |


Despite a profound dramatic intensity, Albanian vocal polyphonies remain relatively unknown. As tradition would have it, the Mallakäster choir comprises of seven singers, four of whom produce the vocal bourbon (kaba), a genuine backdrop of sound against which the soloists develop their melodies. These a cappella represent the most alluring aspects of a rural culture that has resisted all the vicissitudes of Albania's history.

Saturday 2 October and Sunday 3 October

Greek dance from Macedonia
Vasilis Dimitropoulos and the Psathas family

With
Antonis Psathas: accordion, drum daouli
Dimitris Psathas: oboe zourna, daouli
Vangelis Psathas: zourna, clarinet, flute
Paschalis Karvounaris: trumpet
This workshop will be led by Vassilis Dimitropoulos, a specialist on the subject who is also a professional dancer and internationally recognised researcher and professor. Vassilis Dimitropoulos made his debut in the world of traditional dance in1973. He studied the ethnography of dance in Paris and spent more than five years conducting in depth research in the Florian region, in Greek Macedonia. He has also been directing his own dance group since 1982, a date that coincides with the creation of the Research Centre for Hellenic Folklore, of which he is the founder.
Musicians from the Psathas family, a house of Macedonian musicians, will accompany him. The grand father, Vangelis Psathas, who has been playing the zourna since the 50s, is without doubt the most respected performer from the Naoussa region. He transmitted his art to his sons Antonis and Dimitris, as well as to his grandson Vangelis, who will liven up the stage with trumpet player Paschalis Karvoumaris.
Location
Centre Orthodoxe de Chambésy, Chemin des Cornillons 12, 1292 Chambésy
Times
Saturday 2 October, 10am – 1pm and 2pm – 6pm
From 8pm onwards, dance with orchestra and pot-luck dinner (free entry)
Sunday 3 October 2pm-6pm
Fees
CHEF and ADEM members: 120. - / half workshop 80.-
Non-members 150.- / half workshop 100.-
Register by 25 September 2010
Registration
Centre hellénique d'étude du folklore
Case postale 1833 – 1227 Carouge - Phone 079 247 60 41
www.chefgeneve.ch
Organised by : Centre héllenique d'études du folklore (CHEF) / ADEM

Festival Staff
Programming, editorial : Laurent Aubert
Production : Zoya Anastassova
Press relations : Alexis Toubhantz
Internet site : Astrid Stierlin
Administration : Nicole Wicht
Workshop : Pantelis Vervatidis, Centre hellénique d'études du folklore (CHEF)
Sound : Hans Fuchs
Technical production : Liliane Tondelier
Box office : Floriano Tamagni
Film projection: : Cédric Caradec
Cuisine : Philippe Wetzel
Graphics : Tassilo
Photos : Jérôme Cler, Murat Gumuskaya, Juan Carlos Hernandez, Takis Kunelis, Bernard Lortat-Jacob, Viktor Sharra, d.r.
Thanks : Murat Gumuskaya (Turquoise Production)
Partner : Plateau libre (Neuchâtel)
Concert Tickets
30.- full price
20.- reduced price*
15.- students, teenagers
10.- children 12 years and below, 20ans/20 francs card
Cinema Tickets
10.- full price
5.- reduced price*
General Pass
120.- full price
80.- reduced price*
Carte découverte/Discovery card
80.- 4 concerts of choice during the 2010-2011 season

* ADEM, AMR, Amdathtra, SAMEG, CHEF's members, AVS, unemployed

Free entry to the conference
Billetterie
Service culturel Migros, 7 rue du Prince, Geneva, (Mon-Fri, 10am-6pm), (except cinema tickets) from 6 September.
At the Alhambra, one hour before the performances
Information : 022 919 04 94, no reservations by telephone
Food
Light meals and snacks from 7pm

ADEM
The Ateliers d'ethnomusicologie
Founded in Geneva in 1983, the Ateliers d'ethnomusicologie (ADEM) is a cultural association dedicated to world music and dance. Throughout the year, it offers concerts and festivals, lessons and courses, as well as activities for young people. It also produces books and CDs and supports migrant musicians who live in the region.Become a member
You'll benefit from reductions on ADEM activities and concerts, as well as those of our partners, the AMR-Sud des Alpes, the Musée d'ethnographie de Genève (MEG) and Amdathtra.
Single membership: 50.-
Supporting membership: 100.-
CCP 12-6003-0
For more information :
ADEM – Ateliers d'ethnomusicologie
10, rue de Montbrillant – 1201 Genève
Email : adem@worldcom.ch

This festival is organised by the Ateliers d'ethnomusicologie with the support of the Town of Geneva's Department of Cultural Affaires and the State of Geneva's Department of Public Instruction, the Direction of Development and Cooperation, DDC, the Swiss-Romand Lottery, Migros, Radio Swiss Romande and Espace 2
Fetival's partners
Office du tourisme de Turquie, Turkish Airlines, Librairie Payot, Activités culturelles de l'Université, Le Courrier, Vibrations